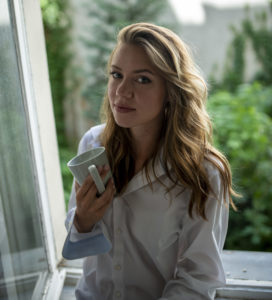 Hier möchte ich mich kurz persönlich vorstellen. Mein Name ist Victoria Bähr und ich bin Illustratorin im Bereich Fashion, Beauty und Lifestyle. Nach meinem Abitur 2013 habe ich Modedesign in Berlin studiert und 2018 erfolgreich abgeschlossen. Das Studium war eine spannende Zeit und Berlin eine inspirierende Stadt. Seit ein paar Monaten befinde ich mir wieder in der Nähe meiner Heimat, in Nürnberg.
Ich fertige digitale Zeichnungen an sowie Zeichnungen auf Papier mit Tusche, Markern, Stiften und Aquarell. Jede Zeichnung ist einzigartig und wird mit viel Liebe angefertigt. Meine Inspiration entnehme ich den verschiedenen Menschen, denen ich auf der Straße begegnen und vielen kleinen Details aus dem Alltag und natürlich auch der atemberaubendenNatur.
Ich bin offen für interessante Aufträge und Zusammenarbeiten. 🙂
————————————————————-
Here I would like to introduce myself personally. Hi, my name is Victoria Bähr and I am an illustrator in the field of fashion, beauty and lifestyle. After graduating from high school in 2013 I studied fashion design in Berlin and graduated in 2018. The studies were an exciting time and Berlin was an inspiring city. Since a few months I am back near my home in Nuremberg.
I make digital drawings as well as drawings on paper with ink, markers, pens and watercolor. Every drawing is unique and is made with a lot of love. I take my inspiration from the different people I meet on the street and many small details from everyday life and of course from the beautiful and fascinating nature.
I am open for interesting offers and collaborations. 🙂